South High School
Class Of 1962
In Memory
Wanda Schofield (Goodsell)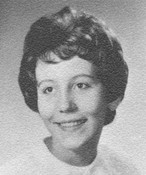 Wanda Lee Goodsell age 56 passed away March 8, 2001 , in Phoenix, AZ.
Born Sept 11, 1944 in Salt Lake City, UT to Victor Schofield and Emelia Hansen. Married Larry Goodsell in the LDS Logan Temple March 16, 1964.
Wanda retired from AT&T as a Humen Resources Manager after 26 years of service. She was an active memember of the LDS Church and was serving a service mission for the Church in home crafts.
She is survived by her husband, Larry,, Phoenix, AZ; daughter and sons, Brad (Laurel), Syracuse, UT, Troy I. (Cynthia) Abeline TX, Mrs. Michael (Leslie) Wilson, Woods Cross, UT, Lance D. (Nancy), Woods Cross, UT; and 10 grandchildren.